BetterPoints Greenwich University is a reward programme for active travel at the
University of Greenwich
to help students and staff make healthy travel choices as well as to reduce their impact on the environment.
Students and staff can earn BetterPoints for commuting to the University by walking, running and cycling then spend those points on hundreds of high street vouchers or donate them to charity. You will earn 25 BetterPoints for your walking, cycling or running activities of at least half a mile, up to twice a day.
NEW REWARDS - for this academic year. You can also earn points by car sharing to the University with fellow BetterPoints users too! Share your journey and receive a 25 BetterPoints bonus twice a day.
Select the 'play' button and Car Share, scan the QR code with your passenger and away you go!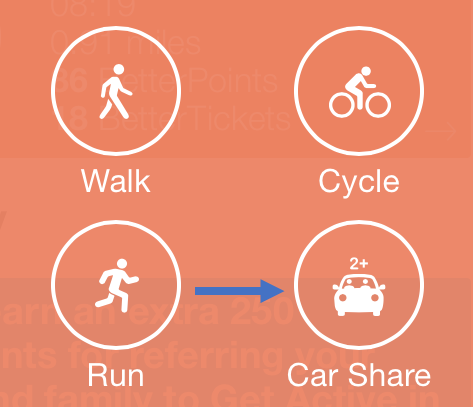 NEW REWARDS FOR THE SUMMER TERM 2019!
This is an opportunity for you to Get Active where you live as well as your active and sustainable travel to the University this summer term.
We'll reward you for every run, walk or cycle at 1 point per minute up to 150 minutes in a calendar week until 9th August.
LET'S GET EVERYONE INVOLVED: Encourage new users and get them to download the BetterPoints app from Google Play or the App Stores, and registering using code GREENWICHNEW
New to BetterPoints and want to join in?
Watch a short video here to get you started or follow these instructions:
1. Download the free BetterPoints app from the App Store or the Google Play Store.
2. Tap "Sign up" in the app, and fill out the form.
3. Go to the menu and add referral code "GREENWICHNEW" and then join the University programme.
4. Tap the Play ▶ button in the top right corner of the app.
5. Track your activity via Automatic (always on) or Manual Tracking (when you want to track a specific activity.)
6. Start earning BetterPoints!
How can we help you to stay motivated?
With BetterPoints you can see your points accumulate on the app for your efforts, we will also share news of what is going on in your area to help you to stay active.
From time to time we will ask you questions about your travel and activity habits, please answer these promptly and honestly so we can put you in the appropriate reward level. This will also help us evaluate the impact of the programme when it ends.
So get out there and start earning rewards for your activities!
Terms and Conditions
You must be a student or staff member of the University of Greenwich. Users who use a referral code to enter the programme who do not fulfill that criteria will be put into the UK Rewards programme after registering to earn BetterPoints.